Headmaster's Welcome
The vision of Mount Annan Christian College is to provide a Christ-centred learning environment that empowers each individual to enjoy a life of purpose.
The College has been serving the wider community of Macarthur since 1999 and continues to have a strong vision and desire to work in partnership with local families who are looking to provide a quality Christian educational experience with great values and discipline set in one of the most peaceful and idyllic locations in the whole Region.
The College is known for its high quality pastoral care and proven educational and support programs that come with a creative and innovative edge. It has designed its Strategic Educational Plan (viewable on this website) to cater for student needs in a fast-paced, ever-changing educational and technological environment. The subject offerings of our College are considerable and the extra-curricular opportunities are extensive. I highly recommend all families consider participating in the personalized, educational Prep program, as it is without doubt the best start to an educational journey you could ever want for your child.
The College is a member school of The Association of Independent Schools Australia (AIS), which is the peak body for independent schools in NSW and is committed to contributing to the wider educational community. As a current and active member of the NSW/ACT State Council for Christian Schools Australia, I have a strong belief in the positive impact and difference that a truly Christian education can have in the lives of individuals and their families.    
I encourage you to contact one of our friendly team members and make a time to come and have a look at Mount Annan Christian College for yourself.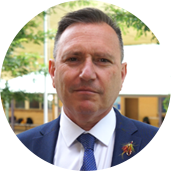 Mr Gabi Korocz
Headmaster
College Executive:
Our staff are engaged and committed to empowering individuals, strengthening and nurturing community, equipping students and providing a holistic approach to develop each individual.  
Our staff are dedicated to nurturing each child's potential through building on their strengths, and preparing them for their unique purpose, so that they can contribute effectively to society, creating pathways for future study and work. 
The staff culture is cohesive and team focused, with many staff having supported the College for many years.  There are currently 60 staff, with valued casual staff members supplementing the team when required.
Meet our Executive and Head Teachers here:
Gabi Korocz – Headmaster
Mr Korocz has been an educator for 35 years and has extensive experience in Christian and educational leadership, development of learning outcomes, strategic planning, pastoral care, community building and student wellbeing.  Mr Korocz has proven capacity and skill at leading, building and growing a reputable, high-quality learning institution that offers children the opportunity to attain academic excellence and spiritual awareness in a holistic, caring environment.  
Mr Korocz is dedicated to providing Christian leadership to serve and support families and community members whilst ensuring the delivery of relevant, high quality and holistic education that enables individuals from a broad range of backgrounds and cultures to attain academic and personal excellence.  As a highly gifted leader, he brings extensive industry acumen, strong interpersonal, mediation and communication skills, along with a proven ability to implement innovative curriculum developments encompassing emerging technologies and holistic pedagogies.
Mark Camilleri – Head of Secondary

Mr Mark Camilleri is the Head of Secondary at Mount Annan Christian College, a position he commenced in 2011. Prior to this, he lead as the Head of HSIE from when he joined the MACC staffing team in 2009. Mark brings over 20 years of educational experience and has held permanent teaching positions within four NSW schools. He has held leadership positions in three schools, including House Patron, Head of HSIE and Head of School, and his educational experience has spanned into the areas of Welfare, Curriculum and Operations. Mark has also worked for NESA where he lead teams to develop HSC and SC examinations in his specialist teaching area of Geography. Mark has a passion for teaching senior Geography and Legal Studies which he has done so for many years.

Mark is passionate about building a Secondary team which will equip students with the skills, knowledge and attitude to thrive and make meaningful contributions in tertiary education, in the workforce and in life beyond. He enjoys motivating students to reach their academic potential and strives to make a difference in students' lives. As an active member in his local church, Mark is constantly challenged and encouraged in his faith in Jesus. He actively encourages students to develop and grow their relationship with Christ.

Debbie Pope – Head of Primary

Mrs Debbie Pope has been teaching for 25 years in a range of educational settings and has been Head of Primary at MACC for the past 5 years.

During her career as a teacher, she has taught all grades from Prep to Year 6, as well as working within the areas of Learning Support and English as an Additional Language. Debbie has held various leadership positions including, Preschool Teacher/Director, Executive Teacher and Assistant Principal and has also worked as a Literacy Consultant within the South West Sydney Regional Directorate of the NSW Department of Education. She has been invited to speak at many Educational conferences and to work with other schools across the state to assist teachers to improve their educational practice and enhance student achievement, particularly in the areas of reading, writing and curriculum development within the Department of Education, the Association of Independent Schools and Christian Schools Australia.

Debbie is passionate about partnering with families and teachers to develop the whole child, firmly believing that children who feel valued, loved and spiritually nurtured are more likely to reach their full potential in all areas of life, especially as learners.

David Chehade – Head of Operations

Mr David Chehade is excited about MACC and its continual strive for excellence. David joins the MACC team with a background in law and business and a focus on developing healthy systems poised for growth. David is relishing his role at MACC and the opportunity to apply his skills to bring value in an environment and setting as important and rapidly changing as education. David is strongly supportive of Christian education and its role in supporting families and engaging with the wider community.

David has been working in Corporate Services for 15 years and in his capacity at MACC works extensively with the Board, Executive and staff to bring about improvements in all facets of the operations of the College.  He currently holds the position of Head of Operations where he oversees the key functions of Compliance and Operations across the College.  This includes Human Resources, Employment Relations, Finances, Property, and all operational matters outside of the delivery of the educational curriculum.

In this role, David provides strategic direction for these key areas ensuring their seamless integration as an effective partner to the academic functions within the College. David feels privileged to serve in this capacity at MACC and is thankful for the strong team that share the vision for the continued growth and excellence here at the College.

 

 

Tim Woods – Director of Studies

Mr Tim Woods has been teaching for the past 9 years and has fulfilled various roles during his teaching career so far. He has taught 7-10 PDHPE, PASS and Stage 6 PDHPE and has also coached many school sporting teams to success. In addition, Tim has fulfilled the roles of Director of Studies, Careers Advisor and VET Coordinator from 2012-2016 at his previous school. Tim has a passion for teaching young people about the importance of health and physical activity as well as teaching Stage 6 PDHPE.
Tim is an effective communicator who loves learning, is passionate about the academic care of every student and sees this as the highest priority. He is committed to ensuring the most effective learning environment for all students – one that meets the needs of each individual. Tim likewise has a passion for coaching College sporting teams and seeing students also succeed outside of the classroom.

 

Josie Beshay – Coordinator of English

Since Miss Beshay's appointment as an English teacher within the College in 2017, she has been given the role of leading the Student Leadership Council as the Student Leadership Coordinator. Additionally, in 2018 she took on the role of Stage 5 Coordinator where she worked alongside and lead a dedicated team, managing the pastoral wellbeing of our Year 9 and 10 students within Secondary. Miss Beshay has been actively looking for methods in which to improve the educational experience of her students and as such, she completed her Honours Dissertation researching experiences within secondary schooling that encourage young people to pursue tertiary education. In 2019, Miss Beshay has been appointed as the Head of English within the College. She has experience in teaching all stages of English and has been appointed as a NESA HSC English marker. As a professional, she seeks to lead a team of proficient teachers to further enhance the academic results of English within Secondary, assist students in becoming better communicators by learning how to think innovatively and critically, whilst also encouraging each student to reach their best academic potential.

 

Jennie Young – Coordinator of  Science

Mrs Jennie Young has been teaching since 1990 and has held leadership positions in schools for the past 10 years. She has received national and international recognition for the development and implementation of innovative teaching programs. Jennie is experienced with project-based learning and is excited about being part of the STEM team at MACC. She has taught all of the senior science disciplines and is particularly interested in the practical applications of science and mathematics. She is an active member of her church.

 

Mr Simon Marrable – Coordinator of Maths

Mr Simon Marrable has been an experienced educator of secondary mathematics since 2006. Previously, he has worked in industry and government in the capacity of the professional mechanical engineer and in project management. He brings a depth of experience in managing and developing programs within and outside education. He also provides useful input into developing mathematical applications within the Stem_Ed space and has been working with the Coordinators of Science and TAS to ensure quality learning experiences of our students.

Mr Marrable is passionate about improving student engagement and academic success within the world of Mathematics and is keen to grow the participation of students in the advanced mathematics courses. He is a committed member of his local church and enjoys bringing music into his mathematics.

 

 Gena Vella – Prep Director

Mrs Vella has been an educator for 13 years, all of which have been at Mount Annan Christian College. During this time, she has primarily taught in Prep and has spent the last 3yrs coordinating the Prep program. Mrs Vella is deeply passionate about providing a safe and nurturing learning environment for children to participate in meaningful and developmentally appropriate, educationally sound experiences. She is committed to coordinating a Prep program that will engage inquiring minds and the natural curiosity and exuberance of childhood. Mrs Vella appreciates that facilitating student's academic journey is a responsibility shared with teachers, parents, the school community and the wider community.

 

Juliette Camilleri – Stage 1 Coordinator

Mrs Camilleri has been an educator for 23 years, eight of which have been at Mount Annan Christian College. During her career, she has taught all grades from Kindergarten to Year 6 in a number of schools across NSW and held a number of leadership roles. Prior to joining the staff at MACC, Mrs Camilleri held the roles of Deputy Head of Junior School, Head of Junior School and Sports Coordinator.
Mrs Camilleri is deeply passionate about developing the whole child and encouraging each child to reach their full social, emotional, academic, spiritual and physical potential through fostering a sense of belonging and self-worth.

 

Kristen Fuller – Stage 2 Coordinator

After completing a Ba Dip Ed in 2007, Mrs Kristen Fuller started teaching at Mount Annan Christian College. During this time, she has taught across all stages from Early Stage 1 to Stage 3. She has also helped the role of K-2 Coordinator for 4 years and is now working on Stage 2 in a Coordinator position. As Stage 2 Coordinator, Kristen will be working closely with all teachers, Year 3 and 4 to support them as they work towards developing and delivering quality teaching and learning opportunities for children. Kristen believes it is important to set challenges for students to reach new goals, to be all that they can be and learn from their mistakes while celebrating with others in their success.

 

Kate Todd – Stage 3 Coordinator

My name is Kate Todd. I am married and have three grown-up boys who have all attended the college. My youngest son is in Year 11, while the other 2 boys are looking to become digital artists. I grew up in a small NSW town called Tenterfield, which is where my family has been settled in that area for a long time. My one claim to fame is that my great-great-grandfather started Campdrafting in Australia! I went to the University of New England. I worked for 5 years as a Casual Teacher in both the Tenterfield region and then in Sydney. I was appointed to Thomas Acres Public School, which was where I worked up until I had children. I had a nine-year break and then returned to teaching at Mount Annan Christian College. It has been a wonderful place to work and a privilege to work with many amazing families and teachers.

 

Leonie Hampson – Coordinator of Technologies

Mrs Leonie Hampson has been teaching since 2006, having spent ten years prior at Ansett Australia in a variety of management roles. With the collapse of the airline, she returned to study to become a teacher, her heart's desire. Leonie has taught and held a variety of leadership positions including Year Adviser, SRC Coordinator, Prefect Coordinator, Technology Integrator and Head of Technologies in both Christian and Government schools. She is a NESA Senior Marker in HSC Design and Technology and has written the NSW HSC examinations for both Design and Technology and Food Technology. Leonie also represents NESA to regional schools to help rural students understand the requirements to achieve excellence in these two subjects. She is an invited visiting lecturer and tutor at The University of Sydney to both undergraduate (BEd) and postgraduate students (MTeach).

In 2018, she completed her MEd (Management and Leadership) USYD, with her dissertation on the impact of emotional labour on teachers in Australian schools, an area of scholarship she one day hopes to complete as a PhD. Leonie is passionate about students seeing the talents and gifts God has given them and empowering students to work out of their comfort zone. Leonie loves to learn and is passionate about her students becoming life-long learners, seeing the joy in learning and understanding that learning is not always about receiving a grade. She is an active member of her local Church along with her husband Mark, and children Jennifer and Joshua. Leonie is an enthusiastic softball player and equally avid supporter of the Sharks.